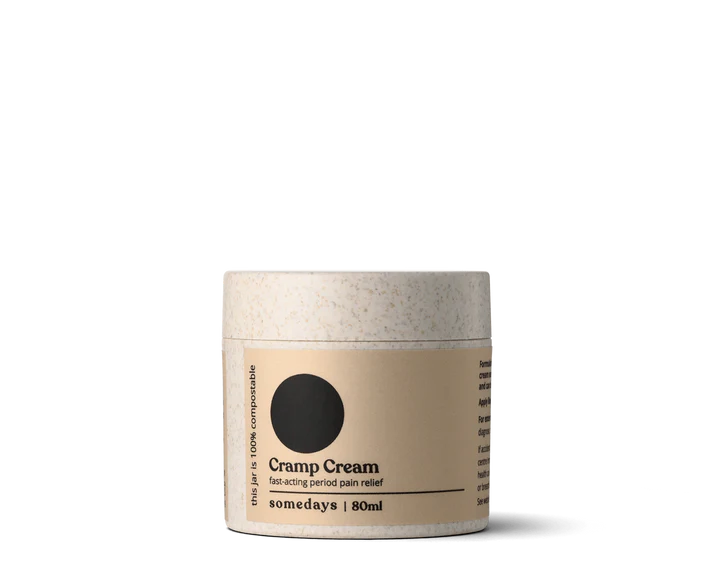 Formulated with natural plant based ingredients, Cramp Cream eases period cramps instantly, lasts up to 3 hours and can be reapplied as needed. It is a natural anti-spasmodic and anti-inflammatory that addresses period pain at the root cause, making it an excellent alternative to traditional pain killers. 
-Vegan and Cruelty Free
-Compostable Jar
-Paraben Free
-Made in Canada

Helps With
Period/Menstrual pain
Sore breasts/chest
Leg and back pain
Muscle Soreness
Muscle Cramps
Inflammation
Joint Stiffness (Arthritis)
Key Ingredients:
Experience 10 plant based ingredients chosen for their pain relieving and anti-inflammatory properties.
Wintergreen:

 

Known for its analgesic (pain relieving) properties.
Camphor Bark:

 

Provides a cooling sensation and helps reduce inflammation, offering relief from cramps.
Arnica Flower:

 

Known for its anti-inflammatory properties, it helps reduce pain and swelling.
Castor Oil:

 

Contains ricinoleic acid, which has pain relieving and anti-inflammatory effects.
Calendula:

 

Helps soothe muscle contractions and reduce inflammation
Chamomile:

 

Known for it's calming effects.
Geranium:

 

Assists in relieving muscle tension and promoting relaxation.
Marjoram Flower:

 

Known for its analgesic and antispasmodic properties, it helps relieve muscle cramps and pain.
Cypress:

 

Helps improve circulation and reduce fluid retention, providing relief from menstrual cramps.
Clove Leaf:

 

Contains eugenol, which acts as a natural pain reliever.


Details + How To Use
-Apply Cramp Cream generously on any (external) area of your body for instant relief lasting up to 3 hours.


Fragrance Notes

Invigorating wintergreen essential oil provides a mood lift, while calming chamomile and clove help ground the senses.
Artificial Fragrance Free.

Can I use Cramp Cream if I am pregnant or nursing?If you are pregnant or nursing please consult with your care provider before trying Cramp Cream.
How much Cramp Cream do I need?
Use as much Cramp Cream as you need! Anywhere from a dollop to a spoonful will work for any given area of the body.

Can I use Cramp Cream for pain other than period cramps?
Absolutely. Cramp Cream can be used to treat any bodily pain. It works well for leg, chest/breast, lower back, abdominal pain and more

What is the full list of ingredients?

Purified water, Emulsifying wax NF, Gaultheria procumbens leaf (wintergreen) oil, Cinnamomum camphora (camphor) bark oil, Arnica montana flower extract, Ricinus communis (castor) seed oil, Anthemis nobilis flower (chamomile) oil, Helianthus annuus (sunflower) seed oil, Calendula officinalis flower extract, Pelargonium graveolens flower (geranium) oil, Origanum majorana flower (marjoram) oil, Cupressus sempervirens leaf (cypress) oil, Eugenia caryophyllus (clove) leaf oil, Stearic acid, Optiphen Plus Preservative